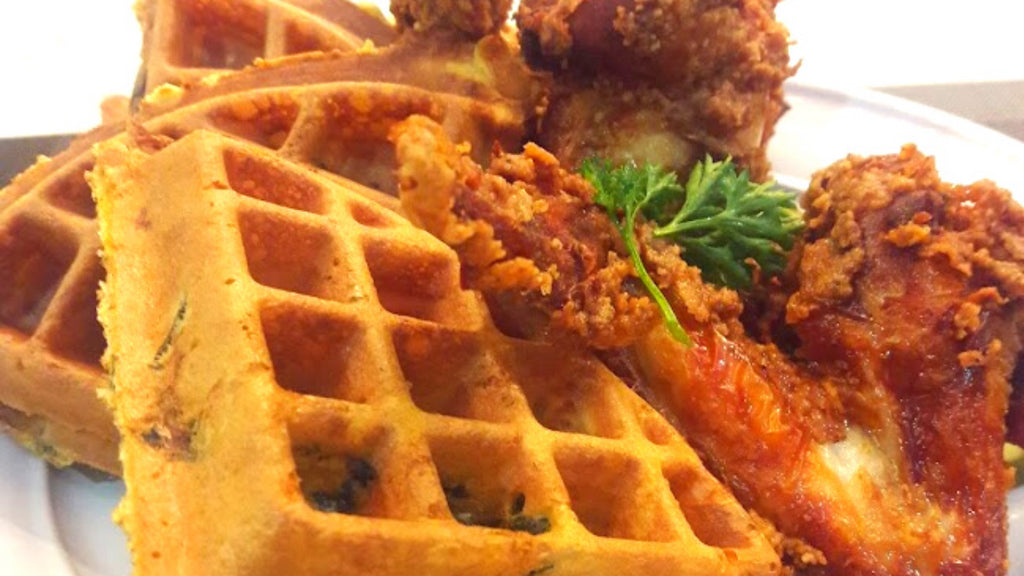 Enjoy our delicious take on this southern favorite!
Ingredients
1 cup Barlow's original pancake mix
1 cup milk
1/4 cup butter
1 egg
1 whole breast (cut in half)
1 cup buttermilk
1 cup Barlow's original pancake mix
2 tsp. salt
1 tsp. cinnamon
1 tsp. ground cumin
1 tsp. red pepper
3 tsp. parsley flakes
(optional)
2 cups peanut oil
2 eggs
Instructions
In a bowl combine buttermilk and 1 tsp. salt, add chicken breast cover and marinate.
In a separate bowl combine two eggs with 1/4 cup water 1/2 tsp salt and 1 tsp parsley flakes.
In a separate bowl or large Ziplock bag combine 1 cup Barlow's pancake mix whisk in 1/2 tsp. salt, red pepper, cinnamon, ground cumin and parsley flakes.
Remove chicken from buttermilk removing any excess liquid. Dip chicken into the flour mixture shake off loose flour then dip into egg mixture repeat dipping the chicken into the flour mixture.
Remove any excess flour and let the chicken sit until at room temperature. Add chicken to hot oil (350 degrees) cooking each side about 15 minutes or until golden brown.
Prepare waffles following the traditional cooking instructions on the Barlow's pancake bag. Top pancakes with chicken breast and enjoy.